CarDAQ-Plus 2

®

CarDAQ-Plus 2® provides the SAE J2534-1 and -2 capabilities needed to work with all OEM functions available today. The CarDAQ-Plus 2® rugged construction meets today's requirements and tomorrows expectations as our most rugged, solid tool for the best vehicle repair shops and technicians. Available to you are OEM-level engine, transmission and body control module reprogramming, security/immobilizer adaptation, dealer-level diagnostics, and more. Order now to start increasing your capabilities and be recognized as a leader in complete vehicle repair
For a brief overview of the CarDAQ-Plus 2®, download our new Sell Sheet!
English | Spanish
For video link on the CarDAQ-Plus 2®, click HERE.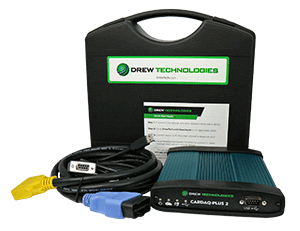 CarDAQ-Plus 2® Kit
Part#: CDP2-KIT-01
CarDAQ-Plus 2® device, Vehicle cable, USB cable,
and Quick Start Guide.
Price:$1,680
Master Bundle
Part#: BNDL-CDP2-DL-01
Includes CarDAQ-Plus 2® Kit and Standard DrewLinQ Kit for light-duty all the way to heavy-duty jobs.
Price: $2,250



Additional Product Information
CarDAQ-Plus 2 Reprogramming:
• All-makes, all-model SAE J2534 reprogramming (OEM Websites, click HERE)
• OEM subscription prices, click HERE
• SAE J2534-1: CarDAQ-PLUS 2 is the most advanced device for reprogramming of ALL OEM with the use of their OEM provided software
• SAE J2534-2: CarDAQ-PLUS 2 offers extra J2534-2 support that expands reprogramming beyond just the Engine/Trans modules for GM, Ford, Chrysler, Toyota, Honda, Audi, VW, BMW, Volvo and more!
J2534 OEM Diagnostics:
• GM - Tech2Win (PC-based Tech2 software)
• GM - Global Diagnostic System (GDS2)
• VW/Audi (VAG) - Offboard Diagnostic Information System (ODIS)
• Toyota - TechStream
• BMW - ISTA
• Jaguar/LandRover - IDS
• Volvo - VIDA
• Honda - Honda Diagnostic System (i-HDS)
Vehicle Security Professionals:
• Technicians and Locksmiths use the CarDAQ-PLUS 2 for Security Key systems/reprogramming on all vehicle makes supported by the OEM and through the NASTF SDRM model.
• Click HERE to learn more and register.
• Click HERE for a listing of OEM availability of Key Codes, PIN codes, Immobilizer/ Smart Reset Codes.
Technical Support:
• J2534 Toolbox 3 - Your personal assistant to help you thru the process, including: videos, walk through help guides, FAQ's, and other online support.
• Free, live telephone and email support from 8:30am - 5:30pm EST for all of our Drew Technologies products.

Product Specifications
Bus Protocols:
• CAN Bus (capable of ISO 15765, GMLAN, J1939, and ISO14229)
• 2nd CAN (Dual or Single Wire)
• Ford SCP (J1850PWM)
• GM Class2 (J1850VPW)
• KWP2000 (ISO9141/14230)
• Chrysler SCI (J2610)
• And more!
PC Interface:
• USB version 1.1 or higher
Other Information:
• Compliant to SAE J25344(Feb 2002) and SAE J2534-11(Dec 2004)
• Compliant to ISO 22900-11MVCI physical layer
• Programming voltage on J1962 pin 6, 9, 11, 12, 13, 14, or Aux
• Ground pins 9, 12, or 15
Operating System Compatibility:
• Supports Windows Vista (32/64-bit), and Windows 7 (32/64-bit)), Windows 8 (32/644-bit), Windows 10 (32/64-bit).
• Consult OE website for their PC requirements
Product Specifications:
• Operating voltage: 7 – 26 Volts
• Size: 1.5"H x 6.58"D x 6.20"W
• Operating Temperature: Commercial Range (0 C to +70 C)

For more information, contact our Sales team at 877.888.2534 (option 2) or email sales@drewtech.com.
Office hours are 8:30 - 6:30 EST Monday - Friday.