CarDAQ‑M®‑MC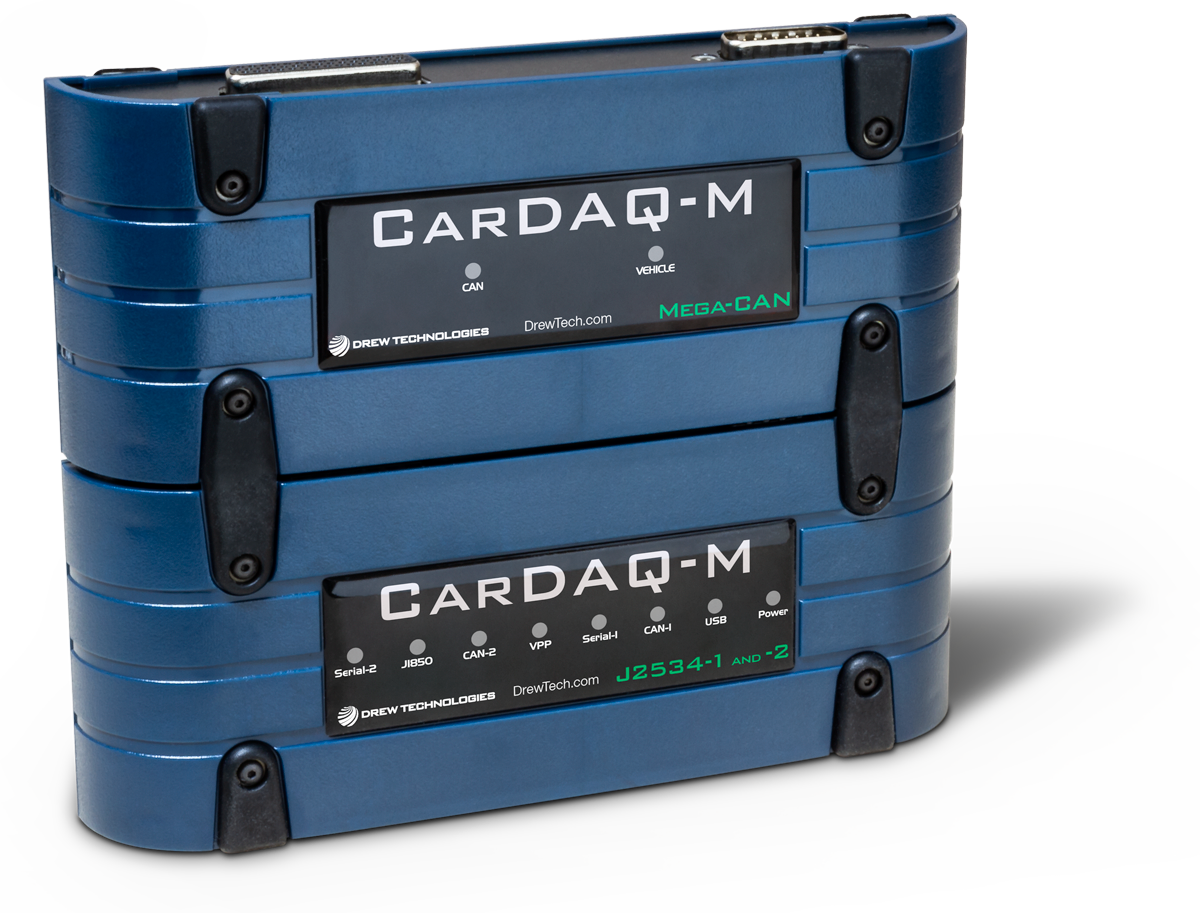 To meet today's vehicle requirements, we now combine the original CarDAQ‑M® with the Mega‑CAN Add‑on Module!
OEM's globally trust Drew Technologies' CarDAQ‑M® for our tested and proven SAE J2534 products. They are regularly used for testing, software development, EOL testing and more. Cost effective and timely, Drew Technologies can assist, consult and work through even the most difficult challenges with you. The CarDAQ‑M® is a one-of-a-kind, evolutionary, modular J2534 tool that can easily be upgraded as technology changes. In addition to the J2534‑1 and J2534‑2 module, the Mega K‑Line expansion module is also available. Consider Drew Technologies for your custom solutions needs too!
For more details download the CarDAQ‑M®‑MC Sell Sheet.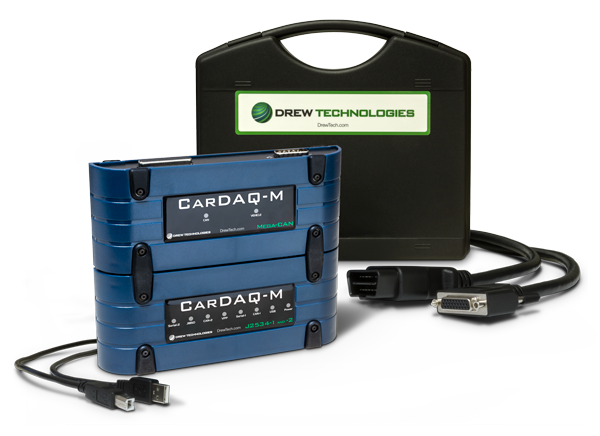 CarDAQ‑M®‑MC Combo Kit
Part#:
CDM‑CAN‑COMBO‑KIT
CarDAQ‑M® device, CarDAQ‑M® Mega‑CAN Module, Vehicle cable, USB cable, and Quick Start Guide.
Price: $2,150
If you're an existing CarDAQ–M® owner:
You need to ADD this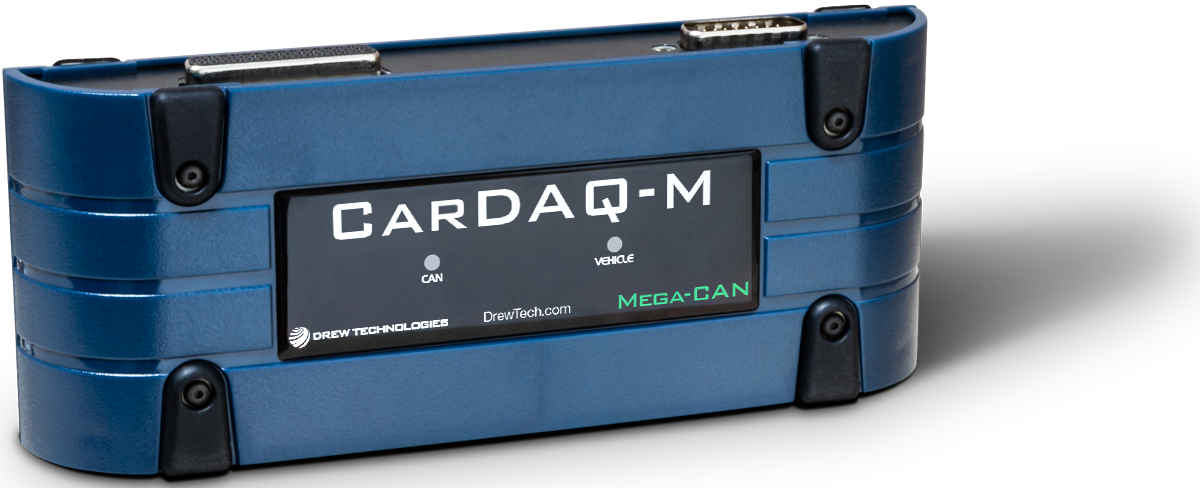 CarDAQ‑M® Mega‑CAN Add‑on Module
*
Part#:
CDM‑Mega‑CAN
Adds one (1) CAN Channel for future vehicles. R2R FCA Required!
Price: $399.00
To get this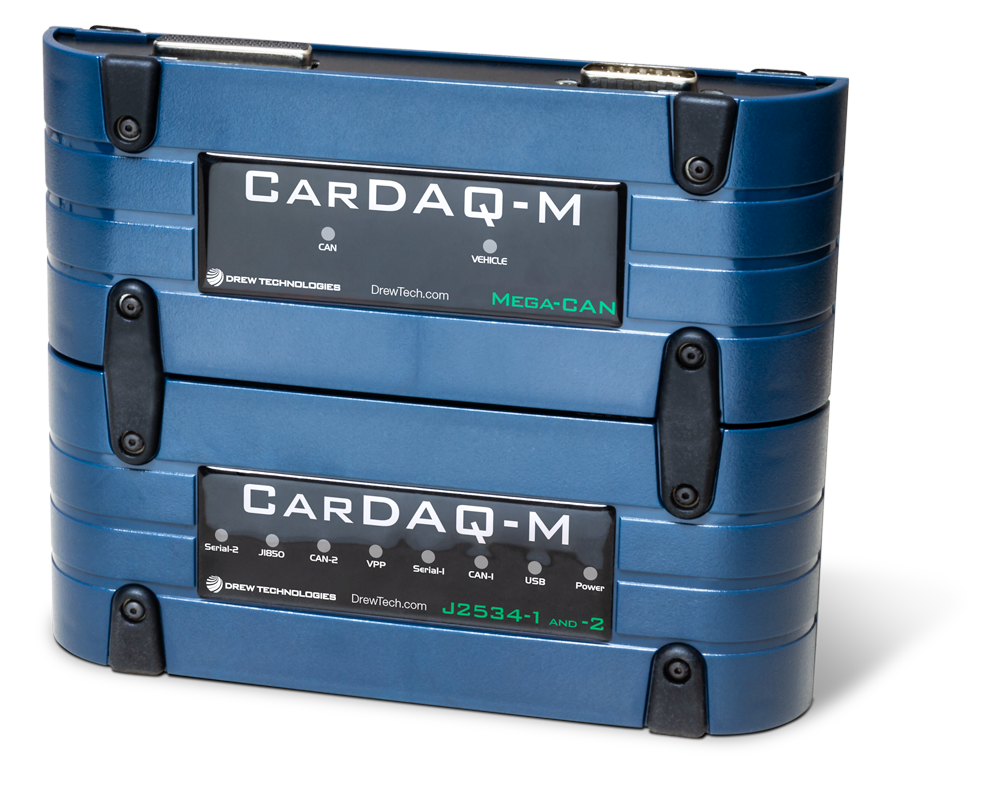 * Vehicles that Require the Mega‑CAN
| | |
| --- | --- |
| 2015 | Jeep Renegade/ Fiat 500x |
| 2016 | Jeep Renegade/ Fiat 500x |
| 2017 | Jeep Renegade/ Fiat 500x/ Fiat Spider/ The All‑New Jeep Compass/ Alfa Romeo Giulia |
| 2018 | All North American FCA Vehicles |
Additional Information
CarDAQ‑M® Reprogramming:
• CarDAQ‑M® is a high performance J2534‑1 product for reprogramming. Use the OEM's software to do J2534 reprogramming with ALL makes
• CarDAQ‑M® offers extra J2534‑2 support that expands reprogramming beyond just Engine / Trans support for Ford, GM, Toyota, Volvo, BMW, and some others
• Technicians can use CarDAQ‑M® for Security Key systems / programming on Ford, GM, and Toyota vehicles.
J2534 OEM Diagnostics:
• Using the OEM's own software, CarDAQ‑M® can do factory diagnostics with BMW ISTA, GM GDS2 & Tech2Win, Honda HDS, Toyota Techstream, Volkswagen / Audi ODIS and Volvo VIDA
• As J2534 continues to grow, the number of OEM's offering a factory diagnostic solution will also grow.
Technical Support:
• DrewTech offers free telephone and email support for all of its J2534 products. When you need help, call on our experts that use and support reprogramming every day
• In addition to Support, DrewTech offers its users videos, FAQs, support aids, and other online technical support thru the J2534 ToolBox 3 included with each CarDAQ‑M®, free for the life of the tool!
Specifications
Bus Protocols:
• CAN Bus (capable of ISO 15765, GMLAN, J1939, and ISO14229)
• 2nd CAN (Dual or Single Wire)
• Ford SCP (J1850PWM)
• GM Class2 (J1850VPW)
• KWP2000 (ISO9141/14230)
• Chrysler SCI (J2610)
• And more!
PC Interface:
• USB version 1.1 or higher
Other Information:
• Compliant to SAE J2534 (Feb 2002) and SAE J2534-2 (Dec 2004)
• Compliant to ISO 22900-11MVCI physical layer
• Programming voltage on J1962 pin 6, 9, 11, 12, 13, 14, or Aux
• Ground pins 9
Operating System Compatibility:
• Supports Windows Vista (32/64-bit), and Windows 7 (32/64-bit), Windows 8 (32/64-bit), Windows 10 (32/64-bit).
• Consult OE website for their PC requirements
Product Specifications:
• Operating voltage: 7 – 26 Volts
• Size: 1.25"H × 7.5"D × 5.25"W
• Operating Temperature: Commercial Range (0°C to +70°C)
• ISO22900 Compliant for GM's Tech2Win software

For more information, contact our Sales team at 877.888.2534 (option 2) or email sales@drewtech.com.
Office hours are 8:30 – 6:30 ET Monday – Friday.