AVIT-2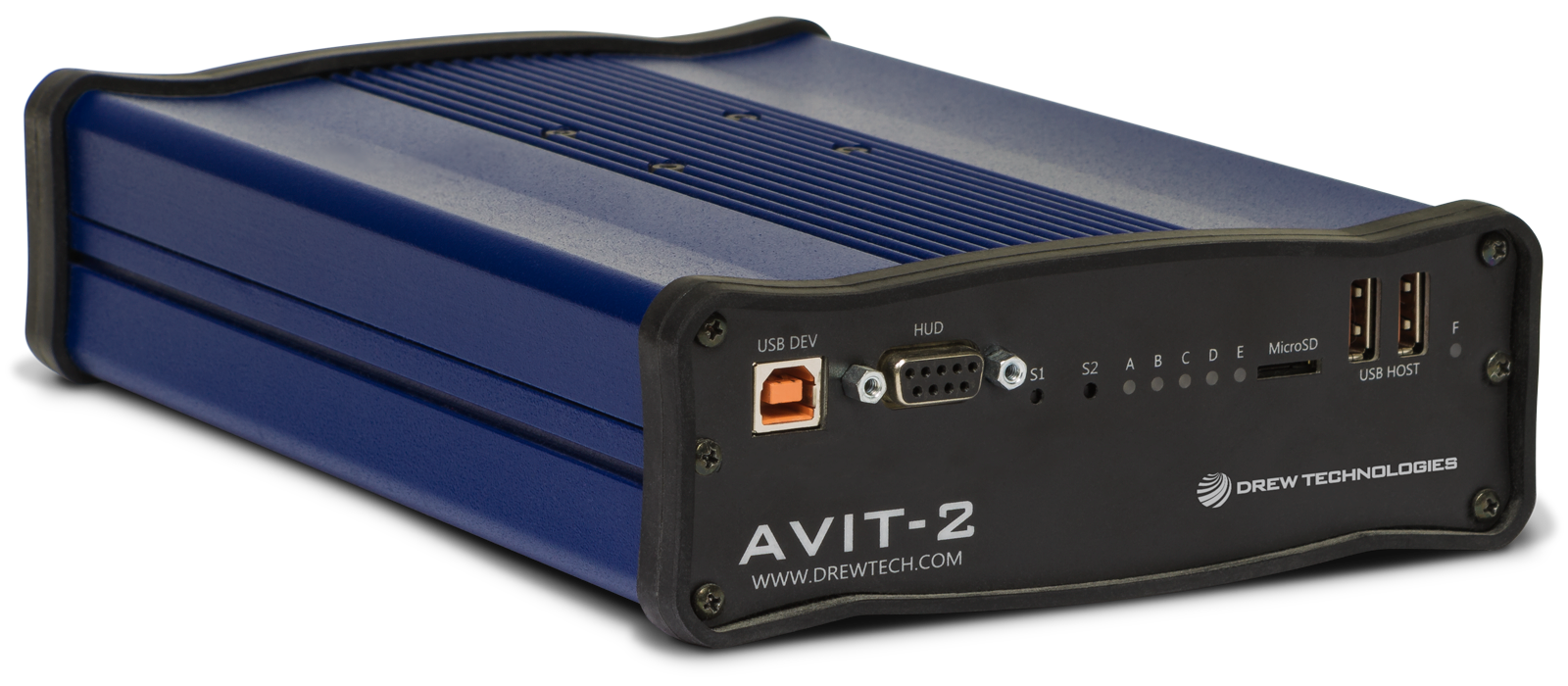 AVIT-2 from Drew Technologies is setting the standard as the first telematics and data logging solution that combines industry leading performance, scalability, and built-in wireless connectivity in an affordable package. Purchase the features you need now and upgrade them later. AVIT-2 is currently available for purchase by contacting us at sales@drewtech.com
Product Specifications
AVIT 2 Standard Features:
• Dual Core 1GHz Linux System
• 1GB RAM
• 3 standard CAN Channels, upgradable to 8
• 1 USB device port for PC connection
• 2 USB host ports, optional upgrade up to 9 ports
• Micro-SD Slot
• 6 multi-color LEDs
• 1 HUD port
• 3 trigger inputs
• 2 programmable outputs
• Speaker
• Mounting Bracket
• Low Power Mode, multiple wake-up options

AVIT 2 Options:
• Built-in GPS
• Built in 802.11 b/g/n Wireless
• Built-in Cellular GSM/GPRS/EDGE, UMTS/HSDPA/HSUPA, and CDMA/EVDO
• Dual Gigabit Ethernet
• Built-in Solid-State SATA2 Hard Drive (up to 1TB)
• Add up to a total of 8 CAN channels
• Add up to a total of 9 USB Host Ports
• Add legacy OBD2 Protocols including J1850PWM, I1850VPW, and ISO9141/KWP2000
• Add a 4.3" Color Touch-screen Heads-Up Display
• Future design capable of LIN, Flex-ray, MOST, J1708, and more
• RAM expandable to 4GB

Industry Standard API:
• J2534 support
• RP1210 support
• Supports J2534-2 (MSCAN, 1Mb CAN, CAN_MIXED_MODE, Analogs)

Physical Specifications:
• Operating voltage: 7 36 Volts
• Size: 215mm x 156mm x 54mm
• Weight: 3lb
• Operating Temperature: Industrial Range (-40 to +85 C)

3rd Party Software Supported:
Use any PassThru (J2534) compliant application (V2, SPS/DPS, OEM mandated reprogramming.) Create your own applications in LabVIEW™, C or Visual Basic.
Note: Drew Technologies provides an application programmer interface (DLL) for OEMs, integrators, or end-users to develop their own PassThru (SAE J2534) applications. We also offer in-house software development services line the Linux-SDK. This kit will help developers write application software more quickly that can be compiled and run on AVIT 2.

For more information, contact our Sales team at 877.888.2534 (option 2) or email sales@drewtech.com.
Office hours are 8:30 - 6:30 EST Monday - Friday.