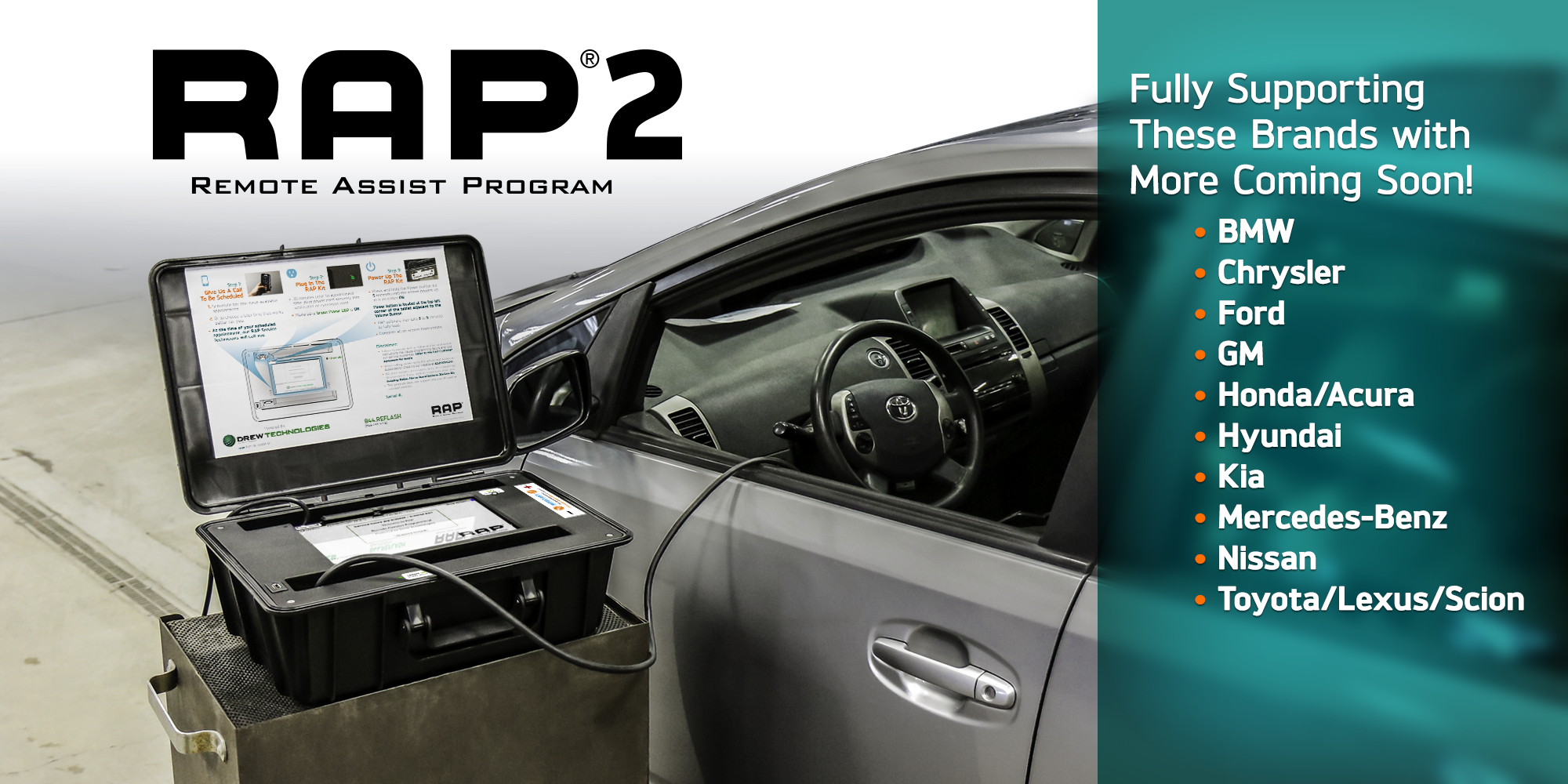 RAP®2 is here!
The next generation of RAP® is here, and it's more capable than ever!
Now includes BMW
*

and Mercedes-Benz capabilities!
*

Effective April 1, 2019

Drew Technologies is the industry leader in vehicle reprogramming; and we understand that J2534 programming can be a difficult task. In 2016, we revolutionized the automotive aftermarket industry with the introduction of our Remote Assist Program (RAP®). Our RAP® team has remotely assisted repair technicians, successfully programming thousands of Asian and domestic vehicles!

RAP®2 expands your technician's capabilities to include European vehicles with the same easy-to-use process!
Independent Repair Shop Owners and Technicians trust RAP®2 to:
• Finish the job correctly
• Keep the vehicle in your shop
• Increase profits
• Increase customer satisfaction
For a summary of RAP®2 capabilities and cost, click HERE.
Watch this video and see how easy RAP® 2 is to use!
What are the RAP® Service Hours?
| | |
| --- | --- |
| Monday – Friday | 8:30am – 8:00pm ET |
| Saturday | 9:00am – 3:00pm ET ‡ |
‡ Special instructions for Saturday appointments!
• Appointments must be scheduled Monday – Friday for a Saturday appointment.
• Inbound calls will not be received on Saturdays. Only outbound calls will be made to those with scheduled appointments.
• Appointment scheduling will be available beginning at 9:00am ET with the last appointments being scheduling at 2:00pm ET.
• Nissan Valve Body/Transmission Programming appointments will be scheduled no later than 1:00pm.
• All currently supported OEM makes will be supported (GM, Ford, Chrysler, Toyota, Honda, Hyundai, Kia, Nissan).
• Level 2 Tech Support issues will be pushed to the following Monday for processing.
What's new in RAP®2?
The RAP®2 kit includes:
• Windows Tablet PC
• An additional hard drive to allow for future expansion as new OE's are added
• The same trusted J2534 device found in the original RAP®
• 4G Modem* for fast wireless internet access
• Subscription to

Diagnostic Network

included!
• OEM subscriptions
• A 90–amp battery maintainer** capable of handling European amperage requirements.
• European Accessory Kit may be required! Click HERE for more information.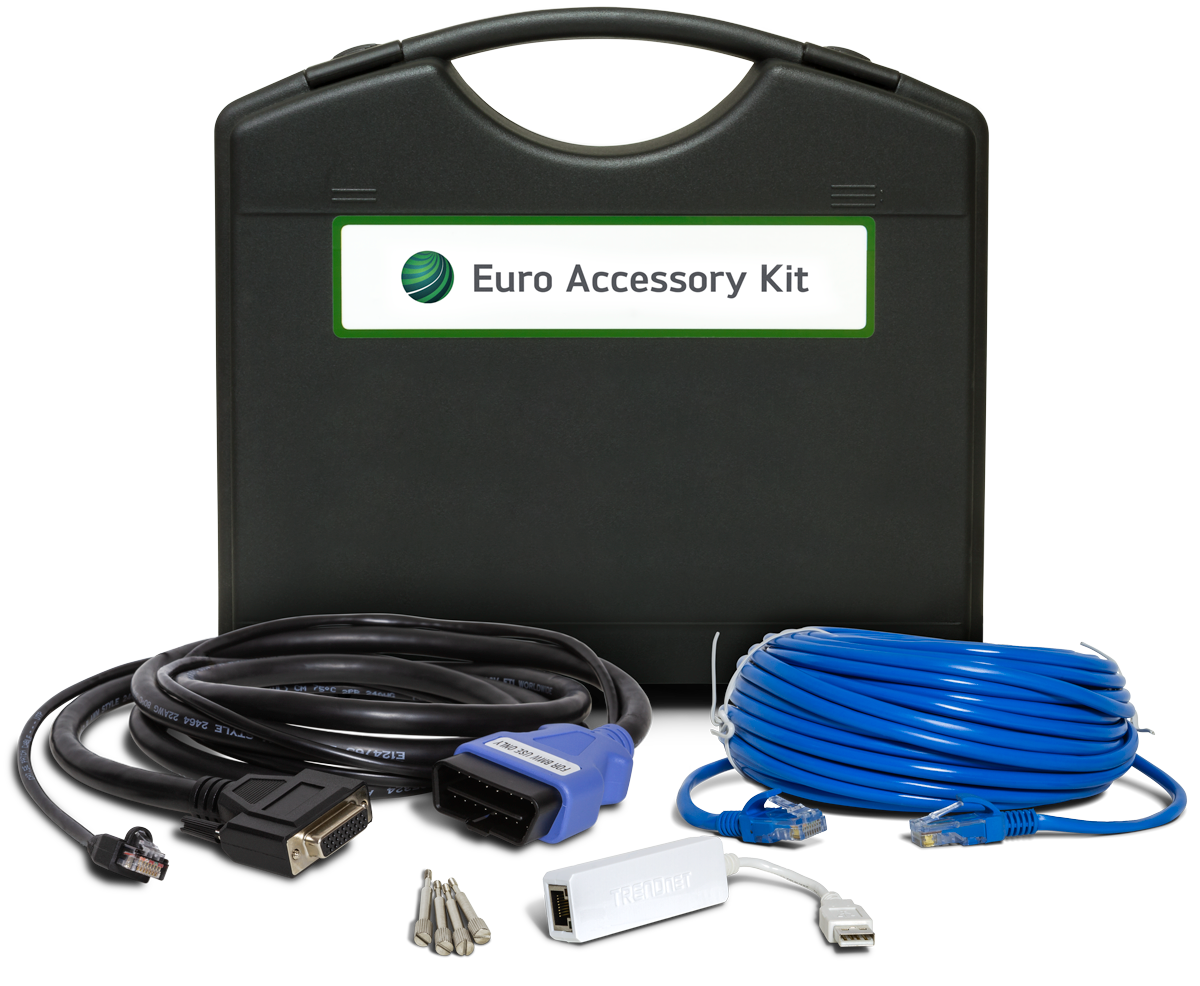 Euro Accessory Kit
Diagnostic Network is a modern network for technicians & professionals in the automotive, collision, and heavy–duty service markets.
---
* See Information & Requirements for International RAP® Use callout below.
** IMPORTANT: 0 – 4 gauge jumper cables
(not included)

are required for guaranteed service!
So what does that mean?
You no longer need to purchase additional tools or OEM subscriptions to service your customers; and since our RAP® Service Technicians do the programming, outsourcing jobs that you're not tooled for can be a thing of the past and you can free up your technicians to get higher skilled labor hours in!
How does it work? It's as simple as 1… 2… 3…!

1. Give us a call to be scheduled
• Schedule for the next available appointment.
• Or choose a later time that works best for you.

At the time of your scheduled appointment, our RAP® Service Technicians will call you.

2. Plug in the RAP® kit
• Thirty (30) minutes prior to your scheduled appointment time, securely plug the power cord into a wall outlet or an extension cord; and check to make sure the green LED is on.
3. Power up the RAP® kit
• Turn the tablet ON by pressing and holding the power button for 3 to 4 seconds until the screen powers up.
• RAP® software may take 3 – 5 minutes to fully load.
• Complete all on–screen instructions.

Power button is located at the top–left corner of the tablet, adjacent to the Volume button.
Cost Per Flash
$125.00 (For most vehicles)
Starting July 15, 2020 FCA flash cost = $190.00
You no longer need to hassle with purchasing and maintaining expensive tools. We remotely maintain and update the kit as new capabilities and updates are released!
Flash Availability Check
For $40.00 ($50.00 for FCA vehicles), we can check to see if a flash is available for your particular vehicle. If it's determined that an update does exist for your vehicle—and if you allow our RAP® Technicians to do the flash—we will apply that $40.00 ($50.00 for FCA vehicles) toward the $125.00 flash fee ($190.00 for FCA vehicles)!
If you would like to exchange your original RAP® kit to a RAP®2 kit, please call 844.733.5274; Option 5.
Please Note: You will also need to sign up with the new RAP®2 Agreement.
Have your RAP® Kit serial number available to process the request. Upon receipt of the RAP®2 kit, place the original RAP® kit in the same box and ship to Drew Technologies.
Must be return shipped within 24 hours.
Information & Requirements for International RAP® Use
---
If you are outside the borders of the USA, we may be able to help you with RAP®! Please be aware that the following are information and requirements to be able to use the RAP® Kit:
• 4G modem not provided, but a USB to CAT5 adapter and 100' CAT5 cable provided to connect directly to the router

• 220v countries must obtain an adaptor to convert 120v, Type B (3–prong)

• North American Sales Market vehicles only

• RAP® Service hours: 8:30am – 6:30pm EST Monday – Friday

• English speaking

• All transactions are in US dollars
If you are able to meet these requirements, please fill out the information below and Submit and a Drew representative will contact you as soon as we are able.
— Thank you!

For more information about RAP®, call us toll-free at 844.REFLASH (844.733.5274)
Office hours are 8:30 – 8:00 ET Monday – Friday.

-->